Biography for Chief Petty Officer Kohlass, a Male Klingon aged 28
who is assigned to the Starbase Geneva
updated this biography on 2008-04-19 15:29:26
Character Physical Description

| | | | | | |
| --- | --- | --- | --- | --- | --- |
| Eyes | : | Brown | Weight | : | 220 IBS |
| Hair | : | Black | Skin | : | Golden Bro |
| Height | : | 6 foot 4 | Blood | : | Deep Pink |

Big and burly
History, Education and Skills
| | | |
| --- | --- | --- |
| Family and Background | : | Change |
| Education | : | Change |
| Pre-Starfleet History | : | Change |
| Starfleet History | : | Change |
| Medical History | : | Change |
| Skills | : | Change |
Other Information
Hobbies
:

Knitting

General Notes

:

"Grrr... here, try this on, see if it fits... NOW!"

Awards
:

Awarded Combat Action Ribbon: For the part played in the battle against the USS Wyvern, 2407.03.13/14

Awarded The Order of Unity: Awarded in commemoration of service during the Federation Civil War.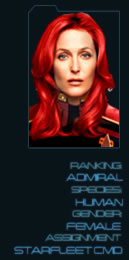 Admiral Bell threw her arms around the Ensign, "You don't have to be scared anymore, you don't have to be guilty anymore, you are not responsible for what that madman did to you.", she said to her quietly and for a moment longer, releasing her from the embrace. "It's going to take time, its going to be a toll... I will be right here, and I am not going anywhere."